There's quite a bit of fun stuff to find in the jungles of Minecraft, so we're taking a look at some great seeds you can play with in this list of Minecraft Jungle Seeds! These are for both Bedrock and Java, so you should be able to find something you like on any platform.
Using the Key Locations
If you want to teleport yourself to one of the locations I mention, just copy the numbers listed by the one you want to visit. Go into your game and into that seed, then in the command window just type in "/teleport @s " or "/tp @s" and paste the numbers! Once you hit enter, you should teleport to the location.
Reading: best jungle seeds for minecraft bedrock
Version Numbers
I've included the version of Minecraft that I used when I tested out the seed. It's still possible that the seed will work on a past or more recent version of the game! You just need to give it a try on whatever version you want to be playing on.
Minecraft Jungle Seeds List
If you want to find some awesome general seeds, then check out our Best Minecraft Seeds list!
Here's our list of Minecraft Jungle Seeds:
Jungle Temple And Igloo Only 1 Block Apart Close to Spawn
Credit: mooing_cowmilk – Seed: 4896327588626842641 – Version: Java 1.16.4
Now this seed is a one in a 664 Billion shot according to mooing_cowmilk, and we can say it's probably accurate, as having a Jungle Temple and an Igloo one block apart is madness but alas it's happened! Not only do you have the two different biomes clashing, not far away is the Desert and Badland biomes!
Key Locations
Jungle Temple & Igloo: 8 71 40
2nd Jungle Temple: -344 74 680
Ruined Portal: 137 72 136
Pillager Outpost: -716 69 -140
Igloo: 856 69 136
Desert Temple: -728 73 -408
Jungle Temple & Taiga Zombie Village Close to Spawn
Related: Making My Skin on Minecraft skins! (Mlgboss skin) "Deadlylive"
Credit: manngamania – Seed: -7868914814809768374 – Version: Java 1.16.4
Ever wanted to go to a zombie village, but then get side tracked by the Jungle Temple they have a few steps away from it? Well, now you can! Not only that but surrounding spawn there's a fair number of temples that you can head to straight away for some awesome loot!
Key Locations
Jungle Temple & Village: -360 73 -312
2nd Jungle Temple: -792 73 8
Ruined Portal: -264 68 -344
Pillager Outpost: -1292 74 132
Igloo: -1416 71 -952
Jungle & Ice Spikes at Spawn (Bedrock – 1.14.6)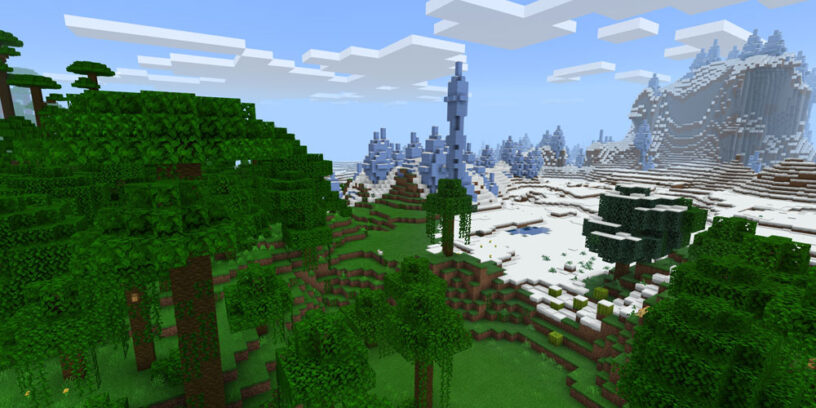 Credit: TelepathicGrunt – Seed: 1659596317
What a crazy mix of biomes at your spawn where you find yourself in a large jungle but right next to it you see huge ice spikes! You'll find a snow village, mine in a ravine, a few more villages, and a pillager outpost! This is just after my research of the seed, I'm sure there's quite a bit more to find if you delve deeper. This would be a great seed for a variety of things to play with.
Key Locations
Jungle Temple: -138 82 134
Snow Village: 173 69 -373
Mine in Ravine: -838 36 561
Village: -1146 71 584
Large Village: -1214 70 959
Pillager Outpost: 474 81 134
Large Haunted Village: 659 69 252
Snow Village #2: 1041 66 51
Village w/Ravine & Jungle Biome (Bedrock – 1.14.6)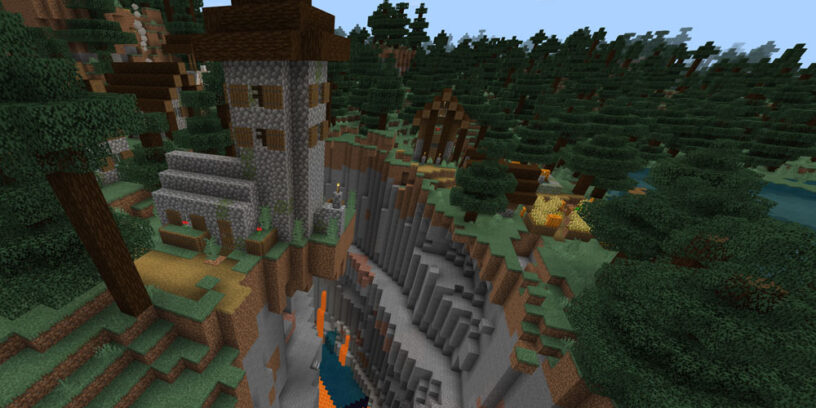 Credit: SilkySharp – Seed: 598080973
This seed has got a jungle biome, but it also has a lot of other stuff going on with it. You've got the village with a ravine running right through it. This ravine also has a diamond spawn inside of it. The jungle biome is not far from here and has a couple of temples and another village. Near the spawn you can go to a snow village with some igloos and an ice spike biome. Not too far from there is another ravine with more diamond! There's a lot to explore with this one if you're looking for additional things along with some jungle.
Key Locations
Village w/Ravine: -284 69 75
Diamond in Ravine: -322 11 43
Jungle Biome: -580 72 23
Village Near Jungle: -708 64 171
Jungle Temple: -794 67 112
Bamboo Jungle: -975 70 -151
Jungle Temple #2: -955 65 -463
Snow Village w/Igloos: 125 63 -342
Ice Spikes Biome: -44 72 -423
Ravine #2 w/Diamond: -149 12 -664
Igloo: -290 72 -803
Huge Jungle & Bamboo Jungle (Java – 1.15.2)
View more: How To Dual Wield In Minecraft Feedback, Why Can&#39T I Dual Wield Torches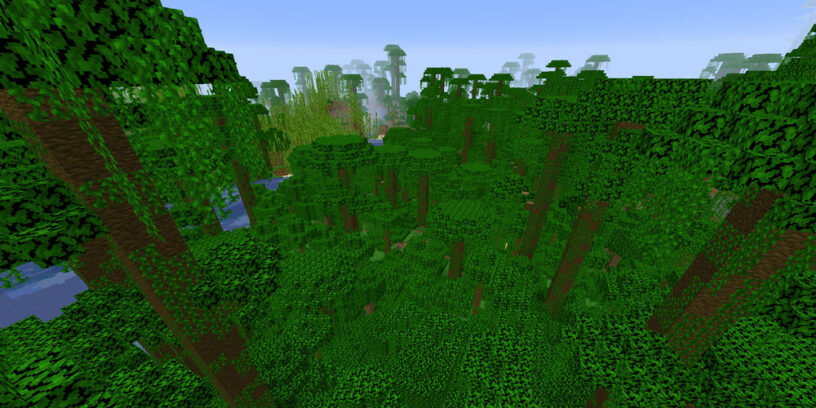 Credit: lebiain – Seed: -1322934988
Well, if you're looking for a large jungle to explore and build upon then this is a good seed for you! There's a shipwreck not to ofar from the spawn, and a few different biomes to explore if you want to venture out of the jungle. You can find a pretty large ravine with a mine that is worth checking out as well!
Key Locations
Bamboo Jungle: -137 66 290
Shipwreck: 42 64 383
Savannah Biome: 264 88 -367
Desert Biome: 0 71 -625
Ravine w/Mine: -44 23 -652
Village: -680 72 149
Shipwreck #2: -970 62 -144
Taiga/Giant Tree Biome: -1076 70 0
Village #2: -1469 67 64
Taiga Village: -1839 79 613
Mansion, Pillager Outpost, & Jungle! (Java – 1.15.2)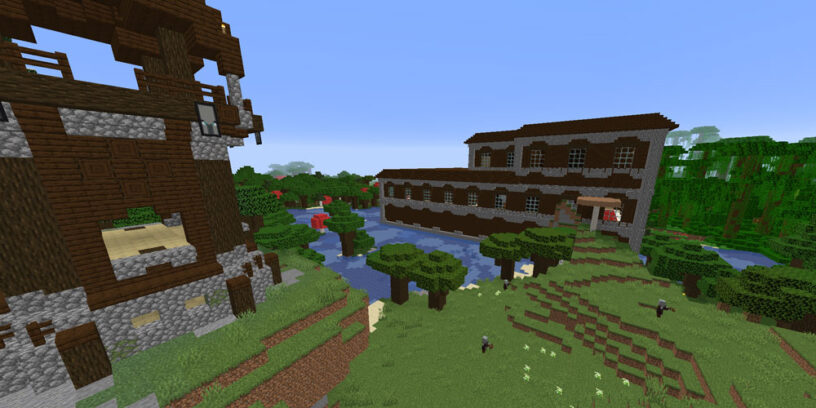 Credit: Killstepz – Seed: 7210414366237083040
This seed is jam packed with stuff right next to spawn! You've got a pillager outpost, mansion, and jungle biome all very close to you. Not only that, there's a ravine right next to the mansion that has a Mine inside of it! There's also a pretty good sized village not too far from this initial area.
Key Locations
Pillager Outpost: -5 88 41
Mansion Entrance: 79 63 -1
Jungle Biome: 86 64 127
Ravine w/Mine: 80 40 97
Village: 80 68 -484
Swamp Biome: 314 63 -1248
Jungle Island & Large Coral Reef (Java – 1.15.2)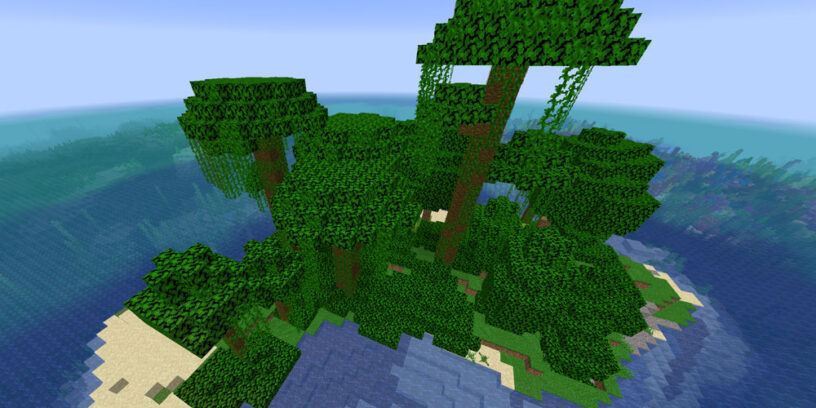 Credit: SpaceBoiArt – Seed: -8635154133396881953
You spawn on a very secluded jungle biome island. You are surrounded by a huge coral reef that you have access to. There's also an Ocean Ruin right nearby with some Drowned spawns. There's quite a few shipwrecks in the surrounding area, you can also access a couple of large landmasses if you want to take a boat to explore some more of the seed. One of these landmasses has a village on it with a nearby cave that leads to a skeleton spawner!
View more: how to milk a cow in minecraft pe
Key Locations
Ocean Ruins: 20 63 -222
Shipwreck: 20 62 -134
Large Landmass: -19 64 220
Witch's Hut: -172 69 340
Pillager Outpost: 1189 82 -360
Shipwreck #2: 1594 63 -432
Flower Forest Biome: 1553 69 -356
Shipwreck #3: -179 55 -385
Large Jungle Biome: -354 64 -571
Shipwreck #4: -763 59 -423
Village: -1277 66 -10
Skeleton Spawner: -1282 46 -72