Welcome to Book of the Troll Warlord, a hero guide part of the Book of Dota series!
Here you will find all the information you need to learn to play Troll on a high level – from drafting and builds to the optimal playstyle in different lanes and situations. We hope you'll enjoy this guide and find it useful!
Draft: Troll is a flexible carry that doesn't have many counters – picking him early on in the draft is not that bad. Enemies that have powerful disables that go through BKB (Bat, Axe, Bane) are the hardest heroes to play against.
Đang xem: Dota 2 troll warlord guide
Early Game: Choose the lane where you are most likely to find easy farm and focus on your own item development. Your goal is to get your mid game core items as fast as possible.
Mid & Late Game: Once you have your core items you can start fighting together with your team. If you manage to get pick-offs you are one of the best heroes to secure objectives. Make sure you abuse the fact that you take Roshan very fast. Secure an Aegis, a BKB and try to break the enemy high-ground.
Authors
Nikolay "CTOMAHEH1" Kalchev
Info & Editing
CTOMAHEH1 started his pro career as a support in Basically Unknown together with Mind Control. Since then he has consistently been playing on the European T2 scene, most recently on Unchained Esports.
His highest placement on the EU ladder is top 100 – he plays all roles (mainly support), which is untypical for high-ranking players and shows his great versatility and understanding of the game.
Martin "BRINGITON" Slavov
Writing & Info
Martin has lots of experience writing about Dota and he is no pushover in the actual game – a Divine III player, Martin plays mid and carry heroes on a very high level.
He has been playing Dota since Guinsoo"s Dota Allstars (more than 12 years) and he loves thinking about new builds and strategies.
Kyril "MrNiceGuy" Kotashev
PM, Writing & Editing
Esports and gaming enthusiast since forever and founder of wtbblue.com.
Has been playing Dota since 2005 (5.84). An Ancient I player in Dota 2.
My axes thirst!
Troll Warlord is an agility carry hero whose most iconic ability is Berserker's Rage – it allows him to switch between melee and ranged form at any time and the melee form grants him better stats and a chance to Ensnare. His other abilities provide incredible attack speed and he uses it to overpower other carry heroes or to take objectives. Troll is famous for being one of the strongest man-fight heroes and has great late game potential.
Read more: Wow Elemental Shaman Azerite Traits, Azerite Armor, And Heart Of Azeroth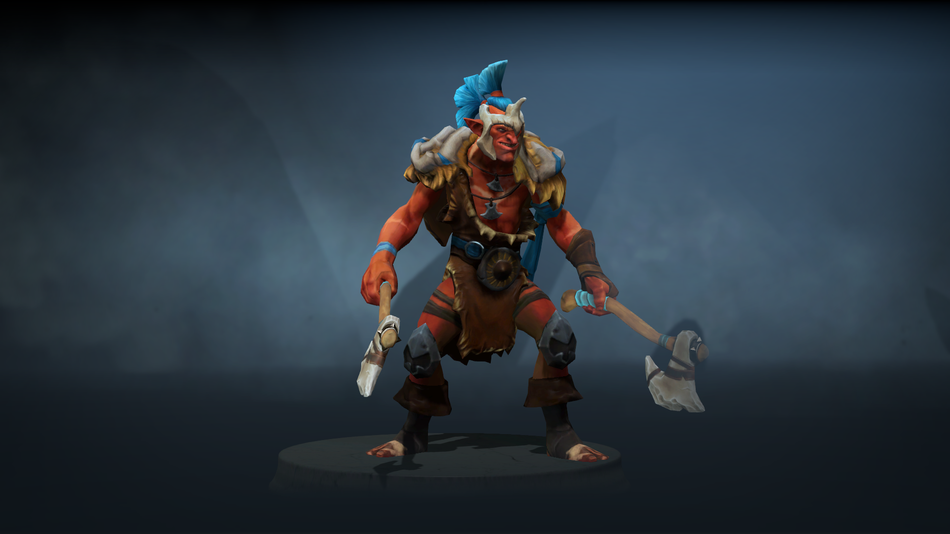 Stats
Level 1
Level 15
Level 25

STR
21
Medium
56
Medium
81
Medium

AGI
21
High
56
High
81
High

INT
13
Very Low
27
Very Low
37
Very Low

Attack
44-56
Medium
79-91
Low
104-116
Low
Armor
3.2
Medium
10.2
High
15.2
High
Resistance
26
Medium
28
Medium
29
Medium
HP
578
Medium
1208
Medium
1658
Medium
MP
231
Very Low
399
Very Low
519
Very Low
MS
298
Medium
305
High
309
High
STRENGHTS
MAJOR:
Very strong in a 1v1 situation: Troll's abilities help him attack incredibly fast and thanks to his Ensnare and the miss chance from Whirling Axes he can easily overpower most heroes in a man-fight.
Cannot be killed: Troll"s ultimate is one of the very few abilities in the game that gives immortality (albeit temporarily). It makes him even stronger in man-fights and allows him to contribute to a fight even after a bad start.
MINOR:
Can switch between melee and range: Troll is the only hero who switch between melee and ranged attacks on demand, which gives him some advantages – he can switch to ranged attacks when he needs to finish a fleeing opponent or use it on the lane to avoid harass.
Decent stats: Although his attributes are far from great, they're not bad. But thanks to Berserker's Rage, Troll gains 6 armor (making it 8.5 starting armor) and 1.5 base attack time (BAT) which makes it equal to that of Morphling, Terrorblade, QoP, Windranger and close to Anti-Mage and Jugger.
Solo Rosh potential: Troll is one of the best Roshan killers in the game. Thanks to his high attack speed, he only needs lifesteal to kill Rosh very early into the game, although not as fast as Ursa.
MAJOR:
Item dependent: As every right-clicking carry, Troll wants to farm a lot and he's not that effective if he falls behind the enemy cores. On top of that, he's highly dependent on his BKB in fights as he's always the primary target for disables.
Only offers single target damage: Troll can only threaten one enemy at a time, so he can be easily kited with the right items and heroes. That also makes him bad against illusions.
MINOR:
No reliable disable: Aside from the Ensnare, which is not reliable, the hero lacks any form of disable or initiating ability to hold the enemy in one place. Troll relies on his teammates to hold enemies down.
Read more: daggers that sheath on back wow
Level-dependent: Troll needs at least 1-2 points in Whirling Axes for laning purposes, desperately needs his other 2 abilities maxed in order to fight and his ultimate is a lot worse at level 1 compared to 2 and 3 (only 60 attack speed).