Some players assume that a game with simple and basic graphics like Minecraft would be easy to run on any computer, even the ones with low-end specifications. However, while Minecraft's graphics are not very demanding, the sheer size of the game and the fact that it renders an entire world for you, makes it a moderately resource-heavy game.
But that does not mean there aren't any tricks that you can apply to optimize the FPS rate and performance of the game. With just a few tweaks to the in-game settings, you can run Minecraft pretty smoothly on even a low-end PC. Of course, this does mean that you might have to sacrifice on cleaner graphics.
Reading: how to get no lag in minecraft pc
Best Minecraft PC settings for optimum performance
Related: Fill Command Generator (Java Edition 1.17) | WTBBLUE
The easiest way to get the best FPS rate while you play Minecraft is by making a few simple changes to the graphics in the settings menu. These are the recommended settings that you can try in order to make your game much faster.
Video Settings: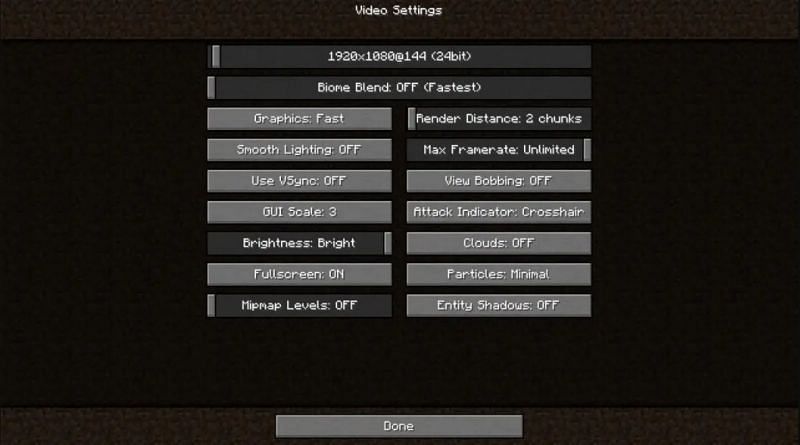 Resolution: 1920×[email protected] (24 bit)

Biome Blend: OFF (Fastest)
Graphics: Fast
Render distance: 2 chunks (For extremely low-end PCs, can be increased depending on your PC capacity)
Smooth Lighting: OFF
Max Framerate: Unlimited
Use VSync: OFF
View Bobbing: OFF
GUI Scale: 3
Attack Indicator: Crosshair
Brightness: Bright
Clouds: OFF
Fullscreen: ON
Particles: Minimal
Mipmap Levels: OFF
Entity Shadows: OFF